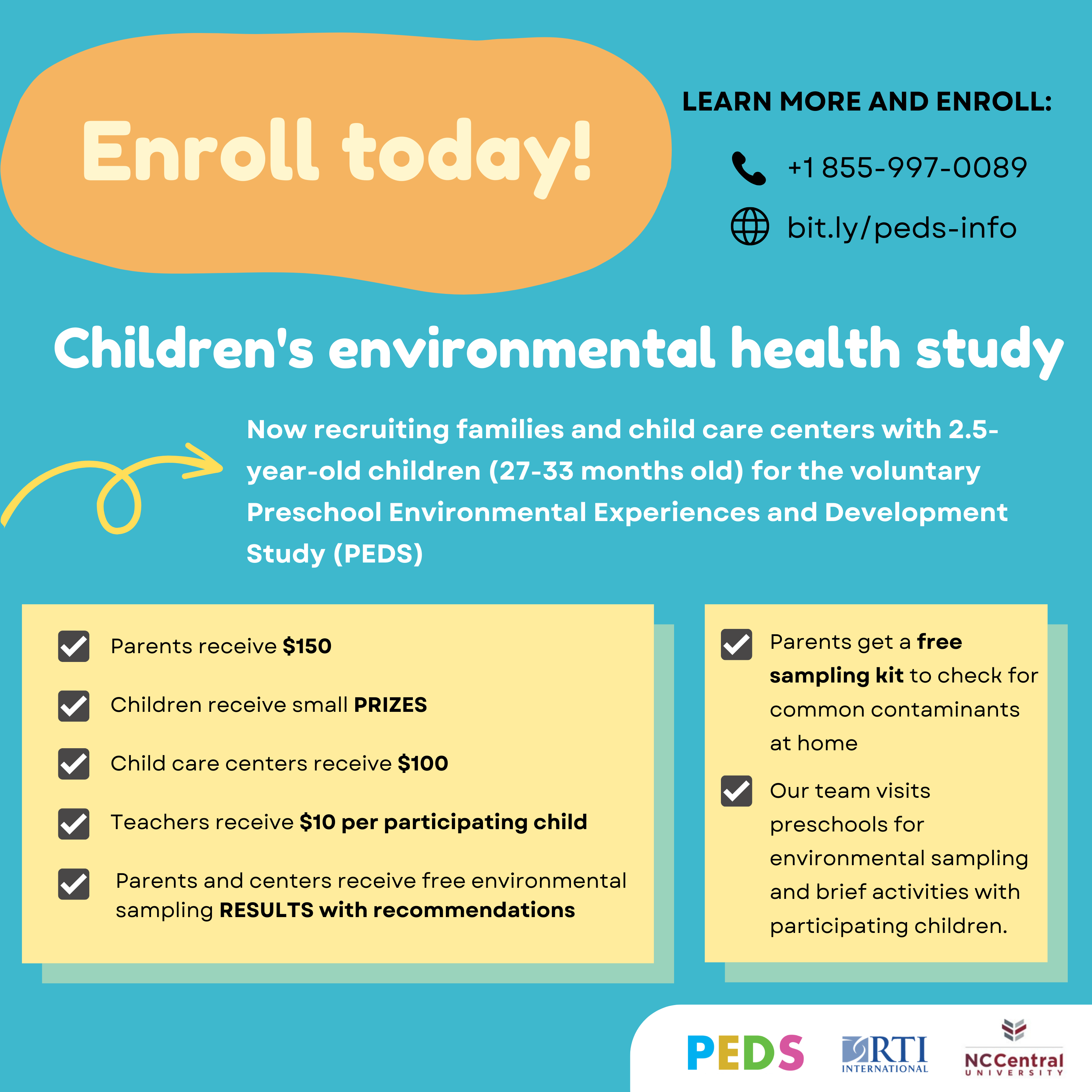 RESEARCH TRIANGLE PARK, N.C. — Do you have a child enrolled in a child care center, or are you a child care teacher or director within Durham, Orange, Wake, Granville, Halifax, Vance or Warren counties?
The Preschool Experiences and Development Study (PEDS) team is enrolling child care centers and families to participate in a grant-funded study on common chemicals found in caregiving environments and neurodevelopmental functioning in early childhood.
The study is a collaboration between RTI International, a nonprofit research institute, and the North Carolina Central University (NCCU) Health Equity, Environment and Population (HOPE) program.
"It is increasingly important that we work with communities on participatory research that is equitable and impactful," said Jennifer Hoponick Redmon, the RTI environmental health and water quality program director and Contact Principal Investigator. "We plan to translate broader research findings into actionable insights on how to better protect children's health from chemical exposures in our typical environment."
The NCCU HOPE program's partnership will be instrumental in supporting families and centers in underserved communities and addressing racial health disparities that exist across North Carolina.
"NCCU appreciates this opportunity to partner with RTI as we work together to better protect the health of our children by reducing their exposures to environmental contaminants." said Dr. Deepak Kumar, the PEDS Translation Core Co-Director and Director of the Julius L. Chambers Biomedical/Biotechnology Research Institute at NCCU.
The Community Advisory Board for the study includes Dr. Linda Chappel, Senior Vice President of Triangle Area Child Care Resource and Referral Services with the Child Care Services Association, Ashley Graham with the Choose Safe Places program at the NC Division of Public Health, and Jenna Nelson, Executive Director of the NC Early Education Coalition.
"Research tells us that our youngest children often spend over 36 hours a week in care environments, experiencing rich activities and inputs that impact their developing brains and learning and influencing their long-term success, " said Dr. Chappel. "We recognize that children's health is the foundation of all growth and development, making it important that parents and educators in early care settings partner with the PEDS research study.  This study will deeply examine the potential for environmental harm on children's neurodevelopment from common chemicals."
Ms. Nelson from the NC Early Education Coalition emphasized that North Carolina's young children need healthy environments in order to learn, grow, and succeed.
"We are excited to be part of this collaborative effort to learn more about the impact of chemical exposures and how to protect children in child care settings," said Ms. Nelson.
Child care centers and families with children that enroll receive their environmental sampling results, along with participation incentives.  Interested child care centers and families can learn more at bit.ly/peds-flyer and start enrolling online at www.bit.ly/peds-info. Child care centers can also schedule a brief enrollment call at a time that is convenient.
The study is funded by a $1.9M grant award from the Environmental Protection Agency (EPA) to create an EPA STAR (Science to Achieve Results) Center for Early Lifestage Vulnerabilities to Environmental Stressors.